SPIRIT & PLACE. We are shaped by the places we come from and shape those places in turn.
Spirit & Place Festival
It's here! The festival calendar is ready to share and we are so excited for you to check out the truly amazing array of events planned for this year's Spirit & Place Festival!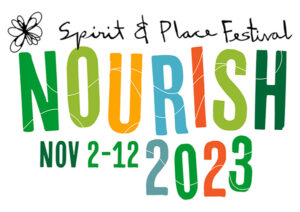 Community Dialogues & Programming
Spirit & Place takes a people-centered approach to its community engagement activities. This includes year-round programming focused on community dialogues, training sessions, public events, and more.
Space Finder
The AMP at 16 Tech
Tube Factory artspace
Phoenix Theatre
Indianapolis Artsgarden
Gallery 924 at the Arts Council of Indianapolis
Fall Creek Friends Meetinghouse
10 East Arts HUB
Re:Public
Eiteljorg Museum of the American Indians and Western Art
Groundwork Indy
Find A Space for Your Event
Resources
We Believe . . .
We are shaped by the places we come from and shape those places in turn.
We believe in the power of the arts, humanities, and religion to strengthen and build community, foster deeper connections, and heal the world around us. Taking a people-centered approach, we invest time into building authentic relationships and co-create programming and capacity-building opportunities that address and reflect community needs and values. Housed in the IU School of Liberal Arts at IUPUI, Spirit & Place is a self-funded, radically unique platform based on an ethos of fairness, hospitality, and equity.
Learn more about our beliefs and values on our "Who We Are" page.
Spirit & Place
IU School of Liberal Arts at IUPUI
425 University Blvd., CA 003B
Indianapolis, IN 46202
317-274-2462
festival@iupui.edu
Spirit & Place
Stay Connected
Sign up for email updates from Spirit & Place